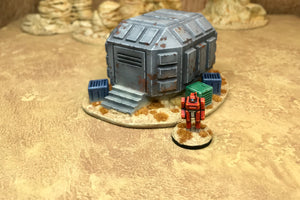 Small Hab Unit
Perfect for moisture farmers, waste prospectors or even storage for smuggled goods, the small hab unit is a multi-purpose prefab utility building.
A single downloadable file for the small habit unit and our ever useful Universal Carrying Crate.
The small hab unit measures roughly 49x78x40 (mm). It is hollowed for printing.
Downloadable files will be sent directly after checkout.
Any crates pictured on bases are not part of the product, though you will receive a file to print some for yourself.