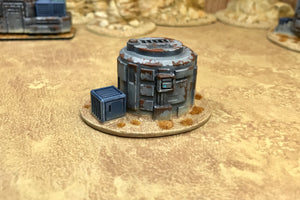 Moisture Extractor 2
The dry desert wastes can be unforgiving, but some manage to scrape a living maintaining units that draw moisture out of the air and pump into underground aquifers. Out on the frontier, every drop is worth it's weight in Soldonium creds...
A single downloadable file for the second of our moisture extractor and our ever useful Universal Carrying Crate (they even carry liquids...).
Also available as part of a resin cast set.
Uint measures roughly 33x32x27 (mm).
Downloadable files will be sent directly after checkout.
Any crates pictured on bases are not part of the product, though you will receive a file to print some for yourself.