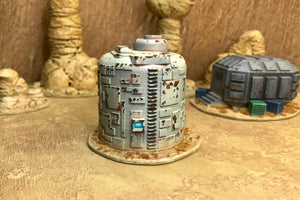 Liquid Storage Container
There's no point farming moisture or refining fuel if you've got nowhere to keep it. Storage towers dot the wastes, making for handy lookout spots too.
A single piece Polyurethane casting of the liquid container - a solid lump!
Measuring roughly 60 diameter and 60 high (mm). The upper platform above the ladder has space to hold up to a 20mm based miniature.
Any crates or other products pictured on bases are not part of the product.