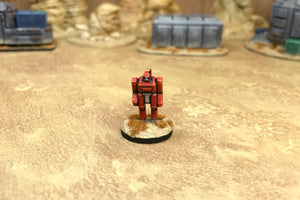 H4NK the Loader Droid
Here you'll find a free version of H4NK (our trusty loading droid) to download - he's ideal for checking scale against your own collection. As a reminder, H4NK can be seen in comparison to a range of other 15mm miniatures here.
H4NK stands about 17.5mm to to the top of his head (without his little aerial) and has a 0.5mm disc underneath him. He's mounted on a 2mm thick MDF base here.
By the way - H4NK is a pretty simple droid, so don't expect much!
To get hold of a digital H4NK, just add this free product to your basket and go through the checkout process, you'll then receive a file automatically.