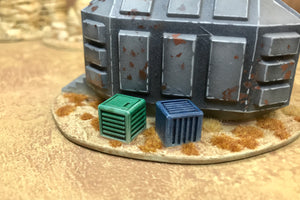 6 Universal Carrying Crates
With just enough space for smuggled blasters, spare hover-cogs or stolen Meiloorun fruit, the Universal Carrying Crate can be found discarded all over the know-galaxy.
One set of 6 3D Printed Universal Carrying Crates. For more on working with 3D prints (and removing supports), see here.
Each crate measures 10x10x10 (mm).
Our Universal Carrying Crate is not available as a digital download, but a file to print one (or many!) is included free with all other digital download orders.