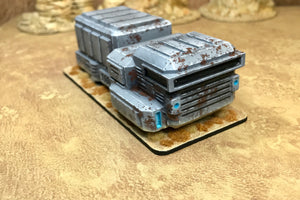 Enclosed Hovertruck
If you need your prized goods or illicit arms hauled without worrying about those dustclouds on the horizon, you need your hovertruck enclosed!
Two downloadable files for a fully enclosed hovertruck (cab and rear), a single file to print a dismounted rear container, and don't forget: our trusty Universal Carrying Crate.
The truck, without the dismounted container, is also available as a resin casting here.
Assembled truck measures roughly 110x40x33 (mm).
Downloadable files will be sent directly after checkout.